Gastronomy
For amateurs of good food, how many irresistible temptations !!! 
Foie gras from the region is on top of your shopping list: it is highly advisable to pass by CHALANDRAY and visit Maison MITTEAULT , both duck breeder and food producer. Foie gras and cooked specialities in jars are offered in a beautifully restored barn dedicated to the presentation and sale of local produces.
In the Deux-Sèvres you will appreciate rack of lamb, goat cheeses of all sorts, the tasty meat of Parthenay cattle, honey from Louin and of course the Loire valley wines of SAUMUR, CHINON…
As for markets the greatest of all is THOUARS without dispute on Friday morning: an appointment with quality.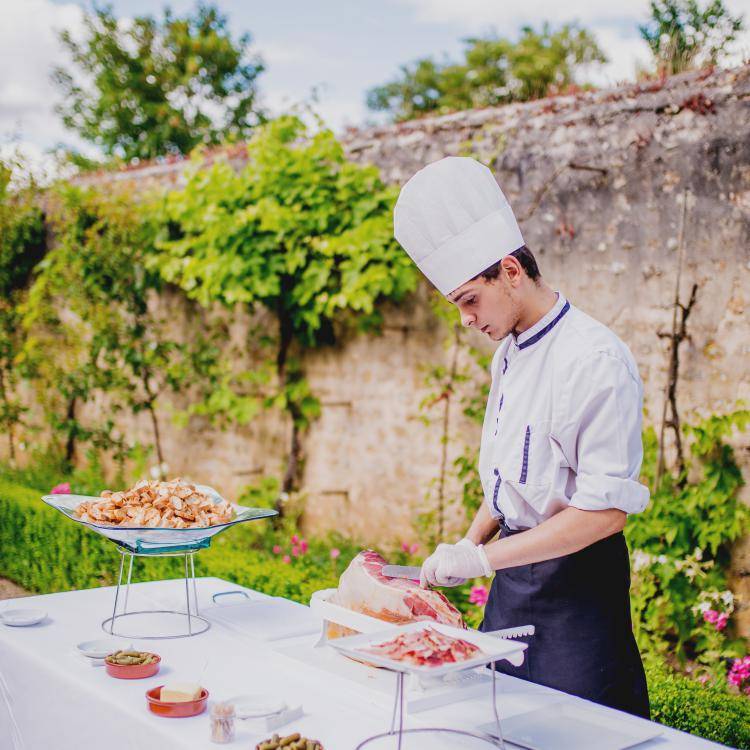 Three eating places are directly accessible and within walking distance from the Château: the closest and most classic "Le relais du Chapeau rouge" with its traditional home-made cooking, Pizzeria "L'expresso" and the Auberge "Sainte Catherine". A little retail market in the main village street allows for last minute purchases such as picnic items.
In Airvault we advise you inter alia to try "Hotel du Cygne" and the "12" . Beware in the countryside, opening hours are shorter than in major cities and it is a good idea to book early.
Numerous eating options in and around PARTHENAY, with  a special reference to "FORGE A FER" along the river Thouet at LA PEYRATTE: book in advance. 
Finally to see the stars you will have to move on a bit;  but if the idea appeals to you, do let us know as we may be able to offer you this opportunity one day at Château de Saint-Loup sur Thouet.  
For a day-long outing you can choose between restaurant "LA CHABOTTERIE" in the Vendée with chef Thierry Drapeau – one Michelin stars- Christopher COUTANCEAU in La Rochelle – also two Michelin stars or MANOIR DE LA BOULAIE near Nantes with chef Laurent Saudeau – two Michelin stars.
For your receptions, Chateau de Saint-Loup sur Thouet operates on the basis of outside catering services including "Chef à Domicile". Our partners step in regularly for the organization of Weddings, Seminars and Group stays. Our address book is available on demand.